Take the Twelve Steps of Recovery with Wally P. using the Back to Basics-101 DVD.

Let Wally P. guide you through the Twelve Steps during this 75 minute, life-changing DVD. Filmed in High Definition at the Arizona Public Media studios in Tucson, AZ, this is a state-of-the-art production that is both instructive and enlightening.

This is a DVD for newcomers and old-timers alike. You can watch it in its entirety or divide it into three segments: Surrender (Steps 1, 2 and 3); Sharing and Amends (Steps 4, 5, 6, 7, 8 and 9); and Guidance (Steps 10, 11 and 12).

The accompanying CD contains twenty-four pages of PDF presentation materials for facilitators and handouts for participants. Here is everything you need to take or take others through the Steps "quickly and often."

This DVD has proven to be a life-saver for those having difficulty finding someone to take them through the Twelve Steps the way they were taken when we had a 50-75% recovery rate. Just follow the instructions on the DVD and let Wally be your "temporary sponsor."

As is the case with other Back to Basics materials, Wally P. receives no income form the sale of this DVD. Wally considers this to be part of his Twelfth Step work for which he cannot be paid.

On sale for just $65 plus shipping and handling!
----------------------------------------------------------------------------
For more than ten years, the Back to Basics A.A. Beginners Meetings have been dramatically lowering the recidivism rate at various correctional facilities in the Richmond, Virginia area. We are now making the one-hour DVD of this life-changing program, recorded on October 27-28, 2002, available on YouTube. During this DVD, Wally P. and others interviewed the sheriff, mental health director, corrections officers, male and female participants, and alumni of the program. From these interviews you can see for yourself why the Beginners Meetings are making such a difference in the lives of so many people who are incarcerated.

In addition, we have made PDF versions of the four newspaper articles written during this period of time about the success of the Back to Basics A.A. Beginners Meetings behind the walls. To view the one-hour DVD (coming soon) and to view/download/copy the four newspaper articles and an overview of the Back to Basics program in Richmond VA, click here.
Faith With Works Publishing Company Needs your Help

For a copy of our December 2012 donation letter, click here

To contribute to Faith With Works Publishing Company with a check or money order using a printable form click here
These links will open a new window.

The Back to Basics Foundation operates as a service entity for members of Alcoholics Anonymous. We take and follow-up on twelfth step calls, we print and distribute recovery literature, and just like many other service entities, we print an A.A. meeting list. We do this as a service to those members of A.A. who have asked us to let other members of the A.A. community know where they can attend A.A. meetings during which attendees TAKE all Twelve Steps.

Listen to the Wally P. interview by Dr. Carol on Sept. 22, 2012
(Interview from 8:00 min to 38:00 min)
http://www.drcarolshow.com/DailyShows/Dr_Carol_Show_Sep_22_Hr_1.mp3

The Fifty Key Paragraphs for taking a sponsee through the Twelve Steps in a couple of hours.

Just paste the four peel and stick labels in the back of a miniature fourth edition "Big Book", highlight the paragraphs and you are now ready to guide anyone through the recovery process.

Four pages per set - five sets per package.

Package $25.00 + $7.00 S/H = $32.00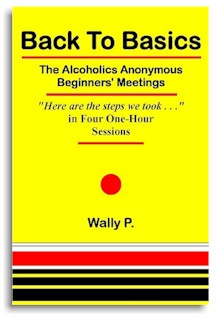 .


Recent page updates
Seminars Upcoming
B2B Meetings
It Works!
Sharing Partners

All Shopping Carts
Coldwater MI Newspaper Article
B2B Teams



Back to Basics
Teleconference Meeting
Dial-in number
(712) 775-7199
Enter code is 255555#.
or try
Dial-in number
(323) 843-0075
Enter code is 890861#.
Online Meetings
back2basicsbeginners-subscribe@yahoogroups.com
New B2B A.A. Meetings
Marlton, NJ
Vicksburg, MI
Toronto, ON, CAN
Miami, FL
Roseville, MI
Brooklyn, NY
Deland, FL
Cheyenne, WY
Ontario, OR (OR/ID Border)
Webster MA
Parksville, BC

Updated B2B Meetings
Brooklyn, NY (new flyers)
Delray Beach, FL
(time change)
Nebraska City, NE
Deerfield Beach, FL
(moved)
Salinas, CA (4-10-12)
Westbrook, ME
Poway, CA
Pensacola, FL
Gretna, LA
New Meeting Flyers
Abbotsford, BC
Van Nuys, CA
Lansing, MI